Availability Status:
Bedroom 2 Available from 9 July 2019
Bedroom 3 Available from 1 July 2019
Entire Flat: Available from 28 Aug 2019
Bedroom 1: Single Bed – 1 person (A Female Reserved from 28 Feb to 27 Aug 2019)
Bedroom 2: Double Bed – 1 person (A Female Reserved from 7 Feb to 6 Mar 2019) (A Male Reserved from 9 Mar to 8 July 2019)
Bedroom 3: Double Bed – 1 person (A Female Reserved from 28 Feb 2019 to 30 Mar 2019) (A Female Reserved from 31 Mar to 30 June 2019)
On-going Availability will be updated here only
---
Prices:
On or before 27 Aug 2019
Bedroom 2: HKD 8800 (per calendar month)
Bedroom 3: HKD 8400 (per calendar month)
(5% off for staying more than 3 months, 10% off for staying more than 6 months)
After 27 Aug 2019
Entire Flat: HKD 34000
Student discounted Price (To be confirmed)
To know more about student discount: https://morris-hk.com/monthly/archives/1707/201920students/
Includes regular cleaning, Internet, building management fee, bedding, tooth brushes, towels preparations, refilling drinks in fridge and toiletries such as shower gel, shampoo, toilet papers, washing powders, toothpastes, hand washer, trash bags.
Includes first HKD 1000 bills for Water, Electricity and Gas per month
会提供
入住时,在厕所:沐浴露,洗发水,牙膏,牙刷,毛巾
入住时,在卧室:枕头,枕头套,床垫,床垫套,毯子
每月在厨房:每月补充冰箱一些饮料
每月在客厅,厨房,浴室:每月清洁员工进行清洁
-每個月購買廁所廚房用品 (沐浴露, 洗发水, 洗手液, 卫生纸,  牙膏, 洗衣粉, 垃圾袋)
已经包含每个月网费,及每月港币1000元电费,水费,气费
一次性租金已经包含所有费用(物业管理,手续费,清洁费,网费,水费,电费,洗手间用品,饮料等等) 。用电比较多的,超过每月1000的需要给多了的电费。
If you have any question regarding to this flat please contact cassie wechat kkarmanc or whatsapp +852 61146080
---
Location
Upper Floor (9/F) Wah Yick Mansion, 2-4 Playing Field Road, Prince Edward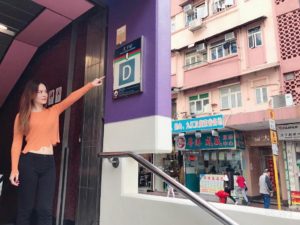 30 seconds walk away from Exit D of Prince Edward MTR station 太子地铁站D口直走30秒
Google Map Pin: https://goo.gl/maps/jczkyyxmqCT2
百度地图: http://j.map.baidu.com/G5gX2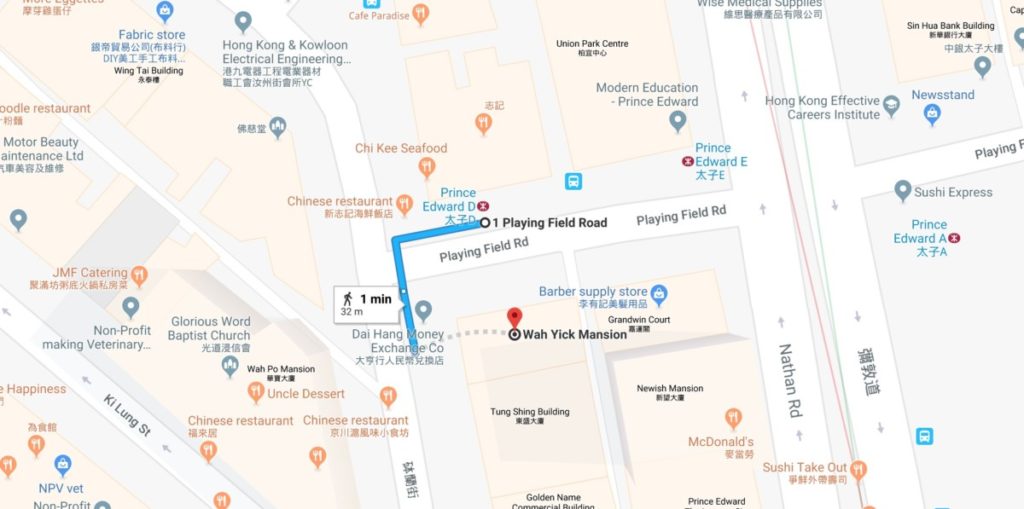 ---
From Prince Edward MTR Station Exit D to the Building Entrance (30 seconds):
Youtube: https://youtu.be/7VPMuEapNhA
微博视频: http://t.cn/EtDQmoU?m=4335573835201287&u=1726612942
Descriptions: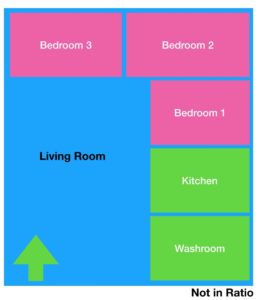 The apartment is a Fully-Furnished 3-bedrooms apartment, ready to move in with towels, shower gel, toothbrushes etc, clean and tidy, Equipped with High-speed internet and Wi-Fi. At the centre part of Hongkong, close to the metro station, can arrive most part of Hong kong in less than an hour.
Bedroom 1: Single Bed – 1 person
Bedroom 2: Double Bed – 1 person
Bedroom 3: Double Bed – 1 person
1 Bathroom (24 Hours hot water)
1 Kitchen (With Fridge, Microwave Oven, Clothes Dryer and Washer)
1 Living Room
Best for 3 persons
Official Size Saleable Area:
Saleable Area: 429 sq ft
Video Of the Flat 
Youtube: https://youtu.be/_64fAgdX-ks
微博视频: http://t.cn/EtDRFVS?m=4335576461311260&u=1726612942
Building with building Gate, CCTV, elevator and weekdays daytime security guard
---
Closest Metro station
Prince Edward MTR Station Exit D (30 seconds walk away)
地鐵到受歡迎的目的地
2站距離:CityU / BU
4站距離:PolyU, 尖沙咀
5站距離:中环
Fare and time details: http://www.mtr.com.hk/en/customer/main/index.html
---
Living Room:
With Wifi, Dinning / Study Table, Dinning Chairs, cabinet for shoes, Standing Lamp, Dryer, Window, TV, Sofa, Coffee table
---
Kitchen: 
With Washer, Gas Strove, Water kettle, Microwave Oven
---
Washroom: 
Water Heater (24 Hours), Hair Dryer
---
Bedroom 1:
Bedroom Size: 2.05m x 1.91m = 3.92m2
Single Bed: 90cm x 180cm (Mattress Size)
with Desk with drawer, AC, Closet, Chair, Big Window, Bedroom Lock, Electrical Converter
Window facing: North
---
Bedroom 2 :
Bedroom Size: 2.99m x 2.2m = 6.58m2
Double Bed: 120cm x 180cm (Mattress Size)
with AC, Closet, Chair, Desk with drawer, Big Windows, Bedroom lock, Electrical Converter
Window facing: North and West
---
Bedroom 3 :
Bedroom Size: 2.26m x 2.06m = 4.66m2
Double Bed: 120cm x 180cm (Mattress Size)
with AC, Closet, Chair, Desk with drawer, Big Windows, Bedroom lock, Electrical Converter
Window facing: West
---
Services
Will provide
In the toilet: Shower Gel, Shampoo, Toothpaste, Toothbrushes, Towels
In the Kitchen: Refilling fridge with some drinks every month
Living Room, Kitchen and Washroom: Cleaning Maid to clean every month
Bedrooms: Pillow, pillow cover, mattress, mattress cover, blanket (Simple for the first move in)
Interent: Wifi
Utilities: Water, Electricity and Gas
Bills included: Management Fee, Internet, Utility Bills (Water, Electricity, Towngas) the first HKD 1000 bill
For normal residential apartments and renting at least one year, please click here to back to main site www.morris-property.com
---
All Videos:
Introduction Video of the Flats:
Youtube: https://youtu.be/eb3ShZtqhFE
微博视频: http://t.cn/EtDTrJN?m=4335571470399914&u=1726612942
From Prince Edward MTR Station Exit D to the Building Entrance, and taking elevator to the  Flat (1.5 mins):
Youtube: https://youtu.be/7VPMuEapNhA
微博视频: http://t.cn/EtDQmoU?m=4335573835201287&u=1726612942
Video Of the Flat 
Youtube: https://youtu.be/_64fAgdX-ks
微博视频: http://t.cn/EtDRFVS?m=4335576461311260&u=1726612942
---
Change furnitures on request: HKD 2500 per item
---
If you have any question regarding to this flat please contact cassie wechat kkarmanc or whatsapp +852 61146080
Information viewed 558 times